You are here
Senegalese percussion and dance group performed at Universidad de Santiago de Chile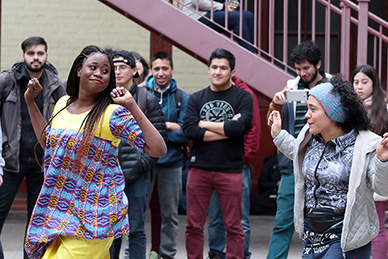 The African group's folkloric music show attracted the attention of the university community at the facilities of the School of Arts and Crafts. They performed a broad repertoire that included ritual and everyday music. 
Many students gathered spontaneously at the yard of the School of Arts and Crafts to see the performance of the Senegalese music group Sonidos de África (Sounds of Africa).
They played percussion instruments like the djembe, sabar and dunun and encouraged the students to participate in the show by singing, clapping hands and even dancing to the music with the group members.
Babacar Dieng, president of the NGO Sonidos de África highlighted the fact that they were very well received by the students. "The truth is that we didn't expect it. One may think that, as they are young, they could feel embarrassed, but they didn't. Love and music don't have limits," he said.
He explained that the music they performed included ritual and everyday music, which has an essential role in the oral transmission of their history. "In the past, in Senegal we didn't have the means to write or read. These drums have been our means of communication," he said. 
Dr Karina Arias, Vice President of Outreach and Engagement of Universidad de Santiago de Chile said that the group was invited to Chile by the Municipality of Cerro Navia and some cultural centers on Valparaíso.
"One of the areas on which we are focused is the integration of different cultures. In this sense, we believe that music goes beyond borders," she said. She also highlighted the way in which students received the music show. "There is a need for interculturality and the university should provide space for it," she added.
Students enjoyed the performance and said that they valued the opportunity of sharing with different cultures. 
Translated by Marcela Contreras